A tecnologia Terphane Active Protection apresentou, em testes de laboratório, eficácia de até 99,65% de inativação do vírus SARS-CoV-2.
Mantendo seu compromisso com a vanguarda tecnológica e em linha com o propósito de fornecer segurança para toda a cadeia de embalagens, a Terphane, líder em filmes PET (poliéster) na América Latina e um importante player global, desenvolveu a tecnologia Terphane Active Protection que, comprovadamente, inativa o vírus SARS-CoV-2 em até 99,65% (*).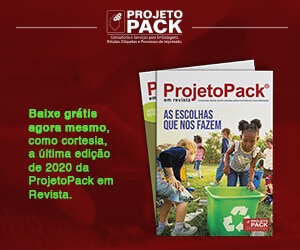 A nova linha de filmes PET Terphane AV, com a tecnologia Terphane Active Protection, apresenta propriedades antimicrobianas e antivirais, podendo ser utilizado em embalagens para contato com alimentos.
A propriedade antiviral dos novos filmes PET Terphane AV, com a tecnologia Terphane Active Protection, foi testada e aprovada pelo Laboratório de Biologia Molecular – Hospital das Clínicas da Faculdade de Medicina de Botucatu – UNESP. O experimento foi realizado seguindo as Boas Práticas Laboratoriais (BPLs), metodologias descritas e adaptadas de acordo com a Standard Practice to Assess Virucidal Activity of Chemicals Intended for Disinfection of Inanimate, Nonporous Environmental Surfaces E1053-2 e de acordo com a norma ISO21702.
O filme Terphane AV com tecnologia Terphane Active Protection apresenta as mesmas propriedades físicas e mecânicas dos demais filmes Terphane, incluindo as propriedades de barreira, sendo aprovado para contato com alimentos conforme a regulamentação da Anvisa.
O filme com a tecnologia Terphane Active Protection é usado na camada externa das embalagens plásticas flexíveis multicamadas. As ações antimicrobiana e antiviral foram testadas, inclusive, após os processos de impressão e laminação do filme. A tecnologia também pode ser utilizada na linha Ecophane de filmes sustentáveis da Terphane, sem qualquer prejuízo de suas propriedades.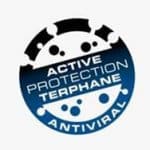 Como pontua Bosco, "o principal conceito por trás do desenvolvimento da tecnologia Terphane Active Protection é o cuidado com as pessoas nas diversas situações de manuseio e de uso de uma embalagem, desde sua saída das plantas industriais, passando pelo check-out do supermercado, pelo uso no domicílio, até chegar ao descarte e a reciclagem. Estamos falando de apoiar na proteção de toda a cadeia de valor da embalagem e do produto".
Por estas características, a tecnologia Terphane Active Protection tem potencial de aplicação em filmes para embalagens de diversos segmentos, mas especialmente embalagens para alimentos e embalagens para delivery. As aplicações que hoje utilizam o filme PET podem migrar para a estrutura com Terphane Active Protection, como por exemplo, sachês de condimentos (ketchup, mostarda, maionese, etc) embalagens de café, leite em pó, tampas para potes de iogurte e atomatados, entre outras.
No entanto, Bosco, Presidente da Terphane, alerta que a nova tecnologia Terphane Active Protection não muda os cuidados pessoais que todos devem ter durante a pandemia. "Devemos continuar mantendo todos os protocolos de segurança e higiene para evitar a contaminação. Esta tecnologia é um passo complementar para evitar a transmissão do vírus nas cadeias de abastecimento, consumo e descarte das embalagens. Isto, aliado ao bom senso e ao cuidado de todos com todos, será essencial para continuarmos a combater esta pandemia."
(*) Os filmes Terphane AV foram eficazes para reduzir as partículas virais por inativação acima de 97% até 99,65% em laboratório, demonstrando ter capacidade de inativar as partículas virais de SARS-CoV-2 pelo tempo de contato a partir de 40 minutos. A ressalva, contudo, é que as condições do laboratório não são idênticas às condições de propagação do vírus em outros ambientes.
Leia mais em nosso site:
Terphane é eleita uma das melhores empresas para se trabalhar